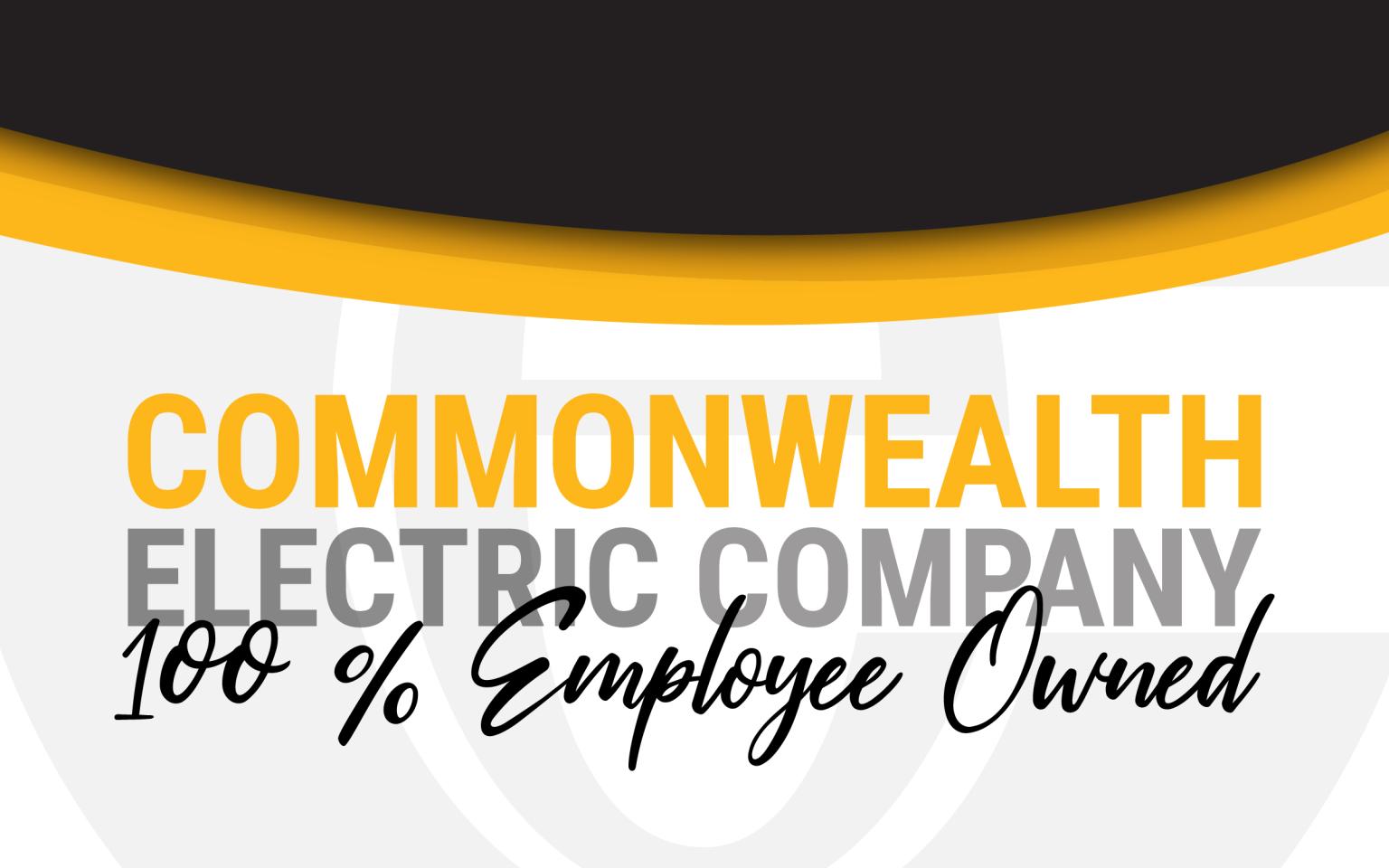 Commonwealth Electric Company of the Midwest is excited to announce that as of March 31st, 2020, we are officially 100% employee owned.
This is such an exciting achievement for the company and would not have been possible without the hard work and determination of our great employees. As we've said before and we will say forever, our people are our greatest asset.
It is incredibly important to note this great achievement affects every Commonwealth employee, including our Union employees. Without the exemplary work and service of our field employees, Commonwealth would simply not be Commonwealth. Like any company, we have a supportive overhead staff that ensures this company continues to grow and flourish. But without our field staff – our electricians, foremen, service workers and everyone in between – we would not be able to accomplish our goal: to provide exemplary and professional work with a fierce commitment to excellence. The people willing to work with dirt on their hands and sweat on their brow are the foundation – and the majority – of this great company, and at the end of the day, we would not be successful without them. And while they are not able to participate in our ESOP plan, we cannot congratulate ourselves without recognizing these individuals.
Whether you're in the ESOP or not, there are still many benefits to working for an employee-owned company. ESOP companies have been proven to be more profitable than competitors. As the company has higher profits, this creates more work for our tradespeople. Beyond the financial benefits, an ESOP has instilled a companywide culture of shared responsibility, mutual respect, and commitment to improve and grow our company with each workday. Everyone has some skin in the game. This has translated into higher levels of productivity, marketplace success, employee retention, and at its core: pride in being an owner.
Commonwealth began this journey in January of 2017, but it was always the hope and dream of Tom Price, one of the four original owners of the company, to become 100% employee owned. Unfortunately, at that time, selling the company to the employees just wasn't possible. However, several years later when the idea resurfaced, the three remaining owners, Pat, Dave, and Glen, were in favor of the idea.
The process began with immediately buying 60% of the company shares, for a majority stake in the company. In just three short years, Commonwealth bought out the remaining shares to become 100% employee owned. This process, with great amounts of focus and ambition, was completed years ahead of schedule.
This achievement could not have been accomplished without the support of our great employees and Employee Ownership Committee. They are instrumental to the success of the Commonwealth's stock ownership plan, through educating employees on the employee stock ownership plan, ensuring that employees are aware of his or her contribution to the success of Commonwealth, organizing ESOP-related activities, and attending ESOP conferences to ensure that the company is constantly informed.
Again, thank you so much to all of our employees – ESOP participants and Union workers alike – for their support and service for Commonwealth. Though our celebrations have been cut short due to COVID-19, we are still so proud of everyone and hope they share this feeling of accomplishment. The future of this company is incredibly bright, and though we've come so far, we have so far to go.