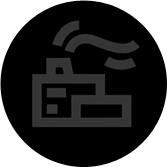 Building Information Modeling (BIM)
---
Commonwealth uses Building Information Modeling (BIM) to design our work, coordinate with other trades, create construction drawings, and prefabricate components. Whether we are adding to a model created by a design engineer or showing our own design, using 3D modeling ensures a high quality, accurate installation.  
Our process includes using Revit to model conduit routes, equipment with clearances, light fixtures, cable tray, fire alarm, and other systems based on the contract drawings. Electricians work closely with the BIM team to model each element as it will be installed. We use Navisworks Manage to compare our work with the work of other trades and identify and resolve clashes. This process helps us to identify problems long before they reach the field.
When the models are coordinated and all clashes resolved we produce drawing for our field electricians based on the model.  Drawings are organized for the crew that will be performing the work. The field drawing set includes sheets for room-by-room elevations for wall rough-in, feeder and branch conduit racks, cable tray, and underground work. The model links to our Trimble unit for robotic layout in the field. We use the scheduling and quantity takeoff ability of Revit to coordinate work with our prefabrication shop for construction and delivery to the jobsite.  
All field drawings and locked models are stored in the cloud for easy access from all project team members. Field staff have laptops or iPads on site to review models and projects are equipped with TVs in trailers for crews to review the model before they begin their work. Commonwealth has over a decade of experience with 3D modeling and we have perfected our process along the way. Recent BIM projects include the Buffett Cancer Center, HDR Office Building, and a local data center. The engineering department has the software, staff, and experience to tackle any BIM project.