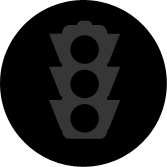 Outdoor Lighting – Traffic Signals
---
Commonwealth Electric of the Midwest can handle your needs for outside lighting and traffic controls. Our electrical contracting services include design and maintenance on all fiber optic and data installations, inside and outside of buildings.
Lighting
Commonwealth Electric of the Midwest can help you install any outdoor lighting project you have. Let us help you with: security lighting, sports field lighting, ornamental, decorative, industrial, commercial, and parking lot lighting.
We can design a project that's both economical and functional to give you what you need at a price that fits your budget. We'll work with you closely to select products that offer maximum quality at competitive prices. And we'll service your lighting once it's in place, repairing any problems that may arise.
Traffic Signals
Commonwealth Electric of the Midwest has the know-how to install your signals without disrupting your traffic flow. We've worked closely and successfully with the City of Lincoln, the City of Omaha and the State of Nebraska to install traffic signals on mast arm poles as well as on span wire poles. We'll do all the locating, trenching, and boring needed to get your signals up and running.
Fiber Optics and Controls
Put our lengthy experience to work for you – we've installed, tested and terminated miles of fiber optic cable for local utilities, hospitals and local businesses. Our Optical Time Domain Reflectometer (OTDR) for the testing and certification of fiber optic cable is state-of-the-art. We have the well-trained, qualified people to map and troubleshoot any installation, analyze the problem, and undertake repairs to restore your connection and maintain your access to vital data.
Outdoor Lighting, Traffic Signal and Signage Projects
Commonwealth Communications has been partnering with Pierson Wireless to install small cellular antenna equipment on light and utility poles throughout Iowa. These projects are increasing in number and show no sign of slowing down in the next few years. Just look...
read more
The last phase for the Papillion Community Center finally came to an end. For the past year, the Field House has been in operation, and the community of Papillion anxiously awaited the Community Center's grand opening. Jared Gable, General Foreman, along with Aaron...
read more