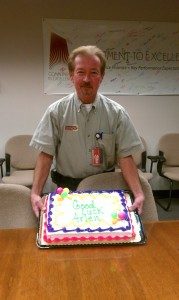 Our Expo Division had another great year in 2011.  However, we said goodbye to a very valued employee, Arlen Rowland.  After providing 15 years of great customer service at the Phoenix Convention Center, Arlen decided to retire.
Arlen started with the Expo Division in 1997 when he moved from our Phoenix Construction office.  Because of Arlen's tireless dedication and commitment to our success, Commonwealth has maintained a flawless customer service record and has maintained our exclusive contract at the Phoenix Convention Center.
Kurt Dinkel will now take the lead.  Kurt's knowledge and professionalism make him a great fit and we look forward to continued success.
Many thanks to Arlen, for his years of dedicated service and his "commitment to excellence"!