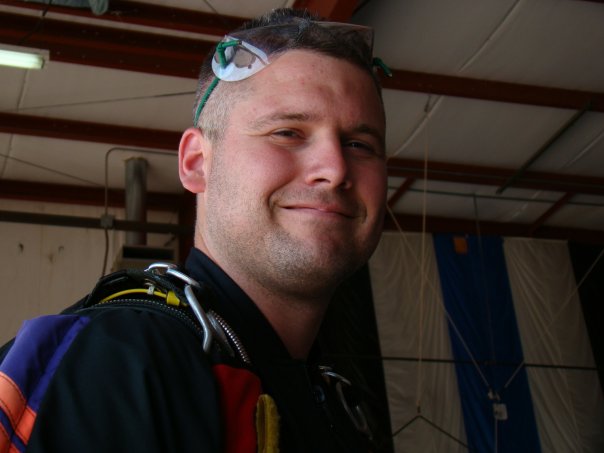 James Henshaw has been with Commonwealth's Lincoln branch since 2008, working in Technical Services. While taking on the many service calls and putting out fires for many of our customers in manufacturing, James also works with automation and controls, where he helps create and troubleshoot a variety of automated controls.
James and his wife Kerri have six children: Tyler (20), Josh and Colin (both 18), Addison (13), and Alex and Landon (both 4). James himself enjoys teaching, automated controls, and…skydiving!
James is a skydiving coach. Being a coach, he takes students up for freefall jumps to complete their "A" License requirements. To reach freefall jump status a student must have a minimum of five jumps under his or her belt and be cleared by an instructor for freefall. James's responsibility is to make sure his students' gear is correct and a jump plan is in place. Another part of a coach's responsibility is to observe and teach the student how to do things such as exits, adjusting fall rates, and forward and backwards movements.
James has been jumping out of airplanes for thirteen years. He carries a class "C" license. To hold one of these licenses the jumper must have a minimum of two hundred jumps. James currently has three hundred forty-five jumps under his belt!
When asked what drove James to do more jumps, he said, "after my first jump I said, 'I have to do this again.' " One of the jumps he likes to talk about is one where he used a "para-commander" military style canopy. After hitting the ground using the para-commander, he separated two ribs.
Another of James's passions is teaching. James is an instructor for the IBEW, the International Brotherhood of Electical Workers. He has been teaching the fourth-year apprentices for three years full-time and two-years part time. A lot of the teaching revolves around getting them experience with motors, motor controls, and PLCs. When asked, James says he enjoys it when a student gets it. He likes the moment that they understand because he can see the satisfaction in their face.
As a part of Commonwealth Electric, we are excited to have James as part of the technical services team. His dedication and expertise make him an asset to the company.