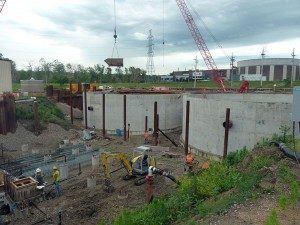 The federal government has identified at least 772 communities nationwide, including Omaha that must reduce their combined sewer overflows (CSO) in order to improve water quality in the receiving streams.
The federal mandate means that Omaha must reduce the number of combined sewer system overflows into the Missouri River and Papillion Creek.
In early 2012 CECM was awarded a contract from Hawkins Construction for the electrical portion of the City of Omaha OPW 52200  Schedule "A" Missouri River Waste Water Treatment Plant  – South Omaha Industrial Area Facilities. This contract consisted of improvements to the MRWWTP, including a new SOIA Building, new SOIA Clarifiers and new SOIA Odor Control Building; and modifications to the Transfer Lift Station; Sweetening (Plant Water System); Ferric Chloride System; and all associated site work.