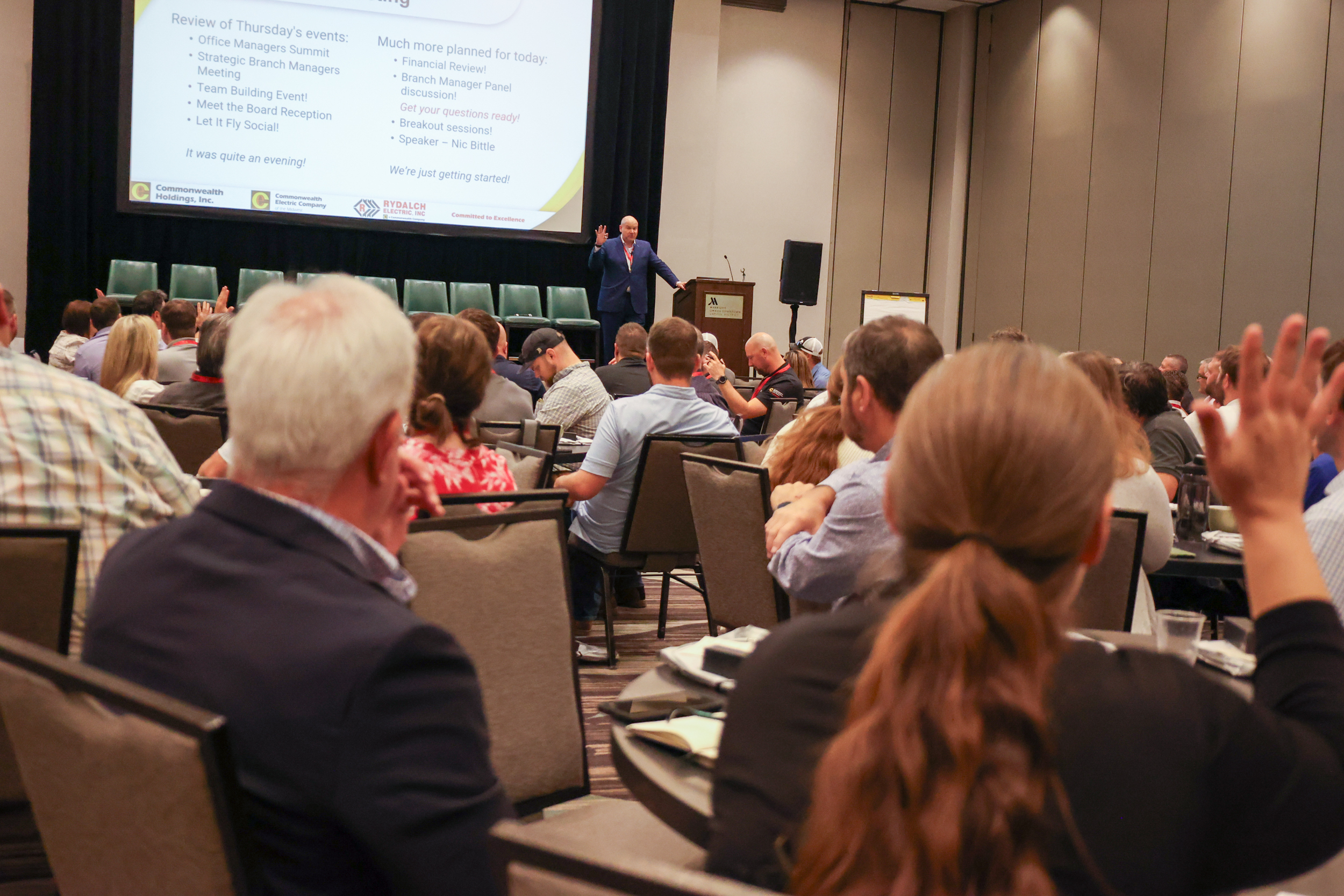 President/CEO T Michael Price gives a presentation at the 2023 Progress Meeting.
By: Cathy Maddox – Ownership Coordinator | Corporate

Commonwealth's Annual Progress Meeting was held on August 24 and 25 at the Omaha Marriott Downtown at the Capitol District in Omaha, NE, with over 130 employees and the Board of Directors attending.
The meeting began with Branch and Office Manager meetings to strategize for the remainder of the year and discuss the challenges they face. The afternoon was spent team building, which included building 36 bicycles that were donated to the YMCA in Lincoln.
For the first time, the Board of Directors of Commonwealth was in attendance, and each member was introduced at the Thursday evening reception. President/CEO T Michael Price introduced the board members and encouraged employees to take the time to get to know them and ask questions about their roles on the board.
Friday kicked off with a welcome and introduction by Price, who introduced Scott Storjohann, Commonwealth's Trustee with GreatBanc Trust, who spoke about our Employee Stock Ownership Plan and the role of the Trustee. CFO/Board Secretary Billy Friesen gave a brief overview of the company's finances to date and answered questions from the attendees.
Next on the agenda was a popular tradition: our Branch Managers on the hot seat! Questions were posed to the branch managers on their hits and misses and what challenges (other than lack of manpower) they are facing—not just for the remainder of the year but going into 2024 as well. This event is a crowd favorite for a number of reasons. For those who are new to the company, this is their first opportunity to meet and hear from all the branch managers. For the "veterans" of the company, hearing how a particular branch is competing in the construction market or what challenges that branch is facing is both informative and enlightening.
Five breakout sessions at five different time slots were offered to attendees. The sessions included:
Commonwealth Academy, presented by Kimberly Somer and Lindsay Selig.
Identifying & Managing Risks in Construction Contracts, presented by Joel Heusinger from Woods-Aitken Law Firm.
McCormick Updates, presented by Brian Millard and Nick Page.
Power BI, presented by Steve Hernandes and Scott Harms.
Prefab, presented by Eric Hoge, Neil Davidson, Stewart Bohrer, and Troy Savich.
The meeting concluded with an outstanding presentation by Keynote Speaker Nic Bittle, who spoke on Driving Excellence – How the Best Continue to Raise the Bar on Themselves and Others. Nic always has a great message, and everyone leaves on a high note!
This year's meeting was a huge success, and the 2024 meeting will see future expansion of offerings to those attending. Thank you to all who attended!