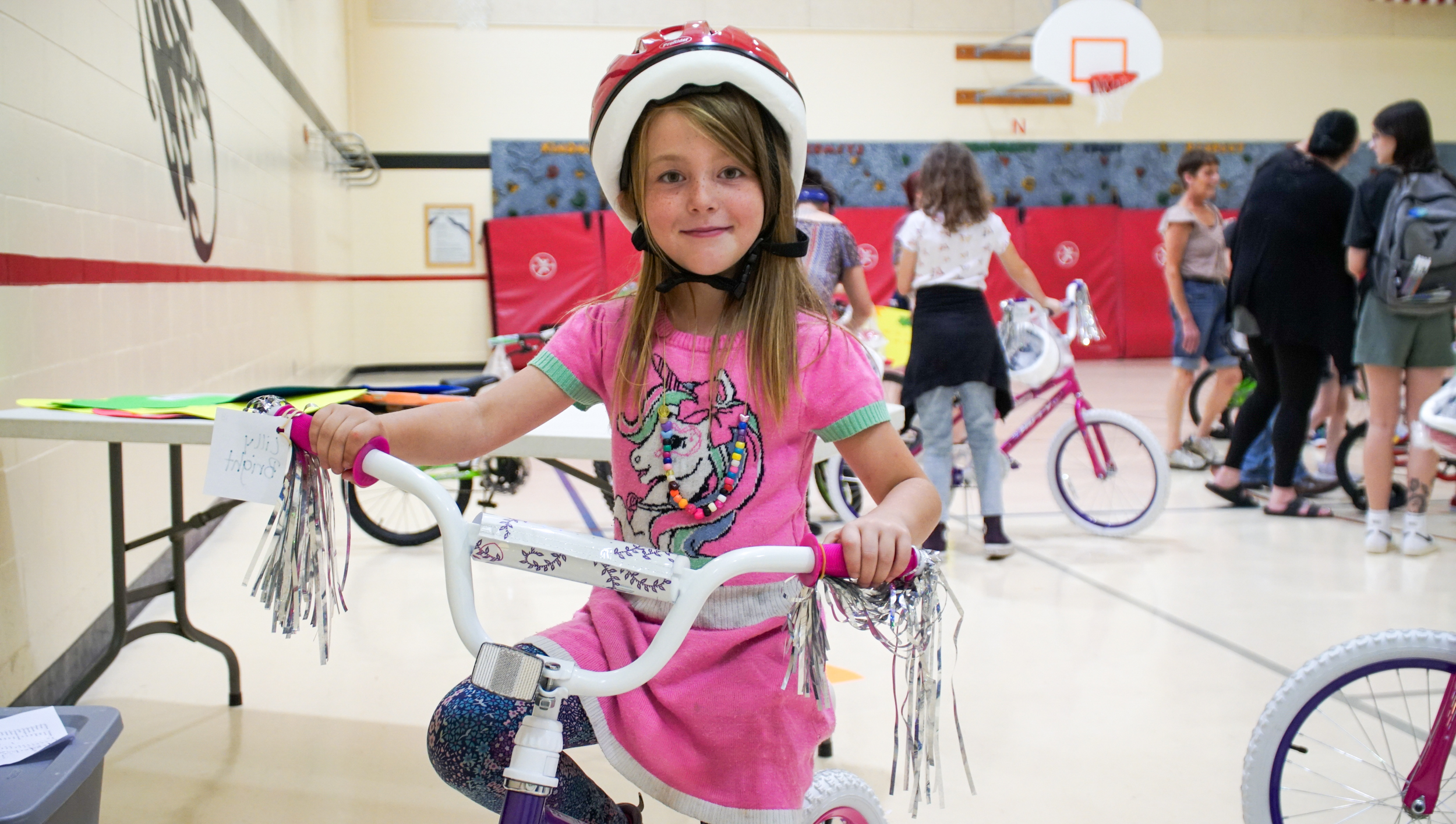 A student at Pershing Elementary School in Lincoln, NE, receives her brand-new bicycle.
By: Cathy Maddox – Ownership Coordinator | Corporate

For Commonwealth's 2023 Progress Meeting, a conscious decision was made to include a team-building activity that could benefit others in some way. To do so, Commonwealth teamed up with VentureUp, a company that specializes in corporate team-building activities. For the team building, VentureUp provided 36 unassembled bicycles in all sizes and colors for employee teams to assemble. Prior to the bike assembly, attendees were challenged with numerous team-building exercises, one of which involved a mouse trap! Please rest assured that no individuals or animals were injured during this particular exercise.
The YMCA of Lincoln, NE, was ultimately selected as the recipient in recognition of their work with youth across the city, and, as a result, 36 students at Elliott and Pershing elementary schools (both YMCA Community Learning Center sites) were presented with new bikes, helmets, and locks. Commonwealth also has a relationship with Universal Surety Company & Inland Insurance Company, our bonding company, which has a company member on the board at the YMCA.
"Our commitment to excellence extends to our communities…making Commonwealth better makes us all better," shared Michael Price, president & CEO of Commonwealth Electric Company of the Midwest. "As we came together to strengthen our teams, we were able to build 36 bicycles for children that would not otherwise have them. I am extremely proud of our employee-owner teams for working together to make this happen and want to thank the Lincoln YMCA for helping us get these bicycles into the hands of children in need."
The YMCA of Lincoln leads the Community Learning Center (CLC) programs at local schools—providing after-school care and summer programming to keep students safe, learning, and active while supporting their families. Students are able to participate in CLC programming, which has helped thousands of students improve academically and has provided enriching experiences that they would not have had otherwise.
"Transportation to and from school can be a significant barrier for students, and with Commonwealth's help, we've been able to minimize that obstacle as much as possible," shared Luke Stege-Tompsett, executive director of the Northeast YMCA. "We're incredibly grateful for the partnership we have with our Community Learning Centers and the impact these bikes will have on so many students."
For more information about the YMCA's Community Learning Center programs, visit www.YMCALincoln.org.