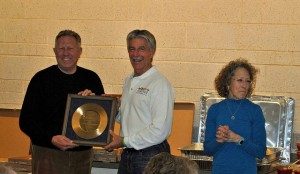 President, David Firestone and CFO, Glen Moss accept the Distinguished Service Award from Lincoln Track Club.
The award was in honor of the many years that Commonwealth Electric has supported the activities of the Lincoln Track Club, and especially the very popular Lincoln Marathon!  From installation of electrical services, to volunteers, to erection of finish lines and timing systems; Commonwealth Electric has been involved.
In addition to the company support, CFO, Glen Moss,  is the new President of the Lincoln Track Club!  This partnership is a very valued community effort of Commonwealth Electric of the Midwest!