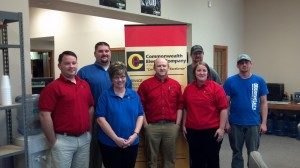 Senior Vice President, Gary Demmel, has named a new Leadership Team in our Columbus office.
Jake Gable, a 4th generation Commonwealth Team member is the new Branch Manager at this location.   Jamey Beck who has run a variety of projects, and most recently had oversight of our work at ADM, assumes the position of Service Manager.   Sean Martys is using his organizational skills as an Assistant Project Manager and working into estimating and planning of projects.
Jerry Keller continues as our Superintendent, and manages all manpower.  The coordination of our busy office continues in the capable hands of Casey Ziemba (Office Manager) and Cathy Cole.  Andrew Connelly has made great strides in the management of our warehouse.  Ruth Chermok continues to support the office with Business Development efforts.
Also ahead for this office is a move to an exciting new location in Columbus!