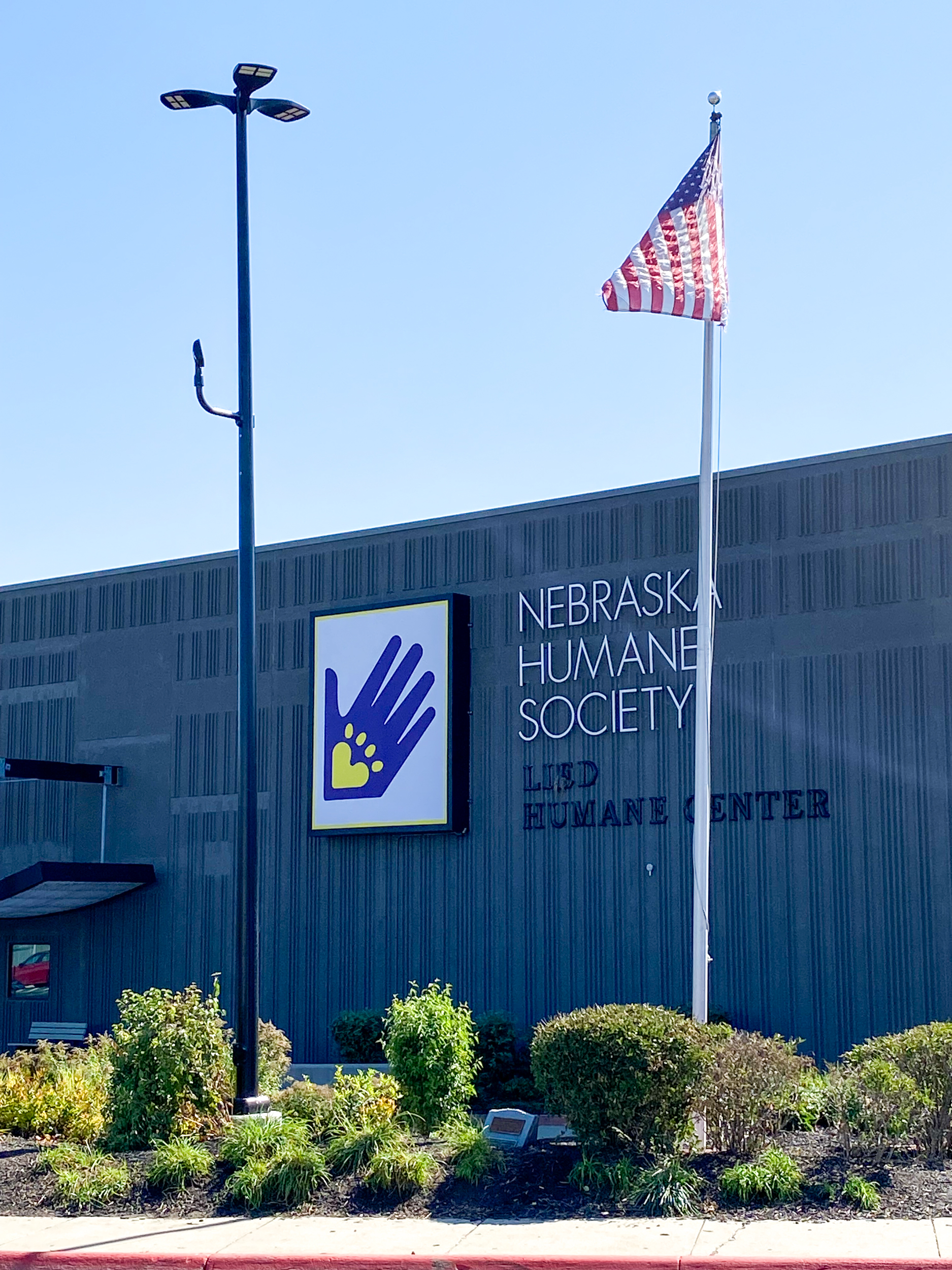 The Nebraska Humane Society building.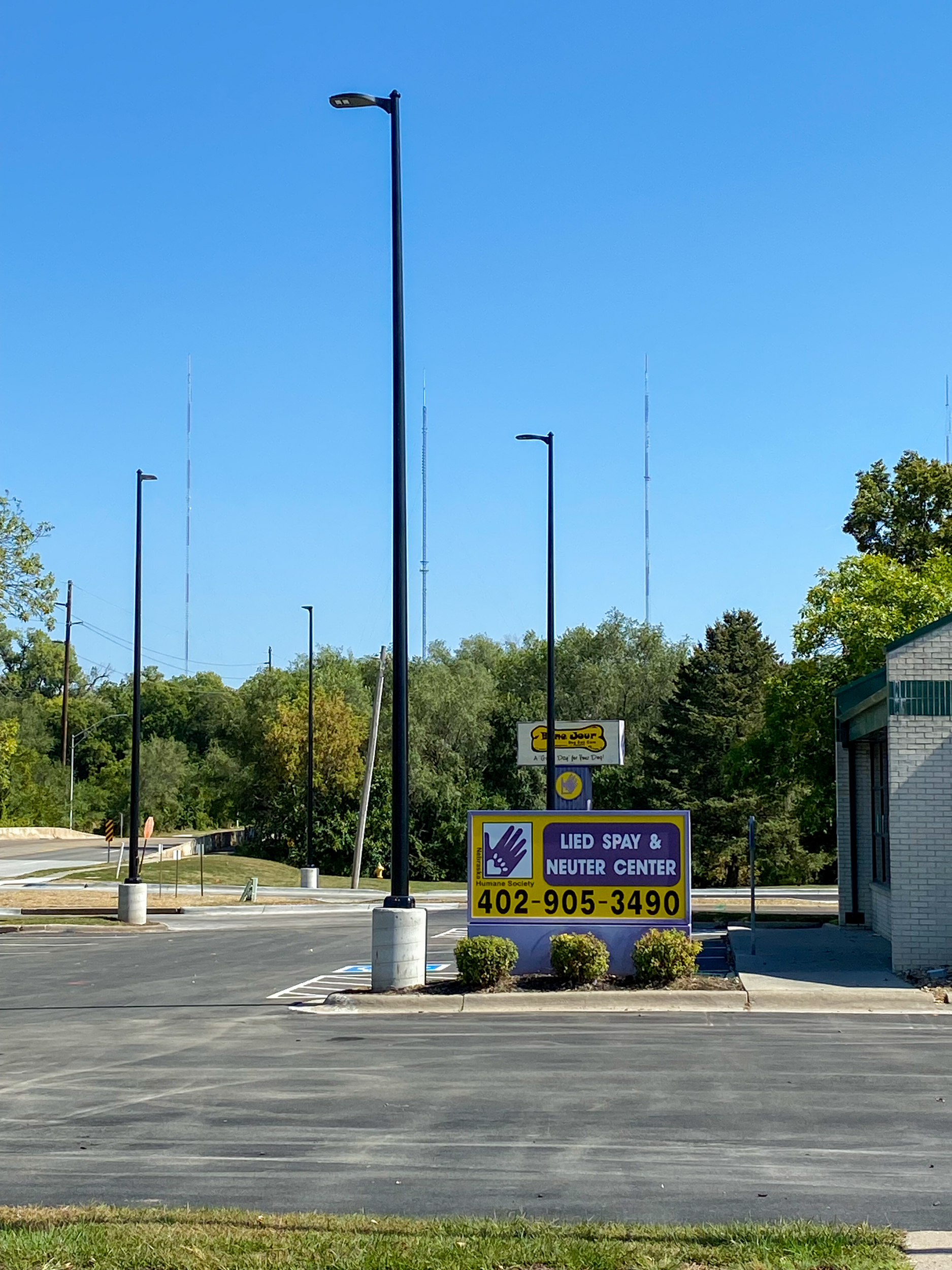 The upgraded light poles in the parking lot.
By: Jon Folkers – Corporate Business Development Manager | Omaha
and Neil Wortman – Project Manager | Omaha

Commonwealth Electric Company of the Midwest's (CECM) team in Omaha, NE, was selected by Kiewit Client Services Group to perform a parking lot lighting upgrade for the Nebraska Humane Society. The Nebraska Humane Society protects, saves, and enriches the lives of animals in the Omaha area. The organization provides education, gives sanctuary to animals, encourages adoptions, and promotes responsible pet ownership.
Project Manager Neil Wortmann utilized his coordination and collaboration efforts for this Service-Team project. Project Foreman Kris Gomon oversaw the day-to-day on-site activities for this upgrade project, with assistance from Line Crew Superintendents Mike Daly and Scott Mayher.
This project was time-sensitive due to a pre-existing fundraiser event planned for the end of September. Commonwealth successfully maneuvered this project forward and ensured that our customer's expectations were met and their event would be a success.
The lighting project consisted of upgrading the existing 24 light poles currently in the parking lot with new LED lights. The project was a coordinated effort between our electrical team, line crew personnel, Omaha Public Power District (OPPD), and the City of Omaha. The project started in mid-July and was completed in September.
Details of the lighting upgrade include new bases that were poured for 24 light poles, which were made larger from 18" to 24". Nine existing wooden pole lights had to be removed by OPPD, and CECM replaced them in an alternative location with new metal poles, bases, and an LED lighting package. New bore lines were completed for the new light locations, replacing the overhead wire currently servicing the existing nine wooden OPPD poles. Always promoting safety on our projects, we chose to hydro vac around all 24 light pole locations. This assured our team and our customer that we would not interfere with pre-existing underground utility lines.
Commonwealth also collaborated with Echo Systems on this project, requesting they build a more robust disconnect to accommodate the existing 36kV transformer while meeting the specs of both OPPD and the City of Omaha.
There were challenges along the way with procurement. The lead time for poles went from 3-4 weeks initially to 11-12 weeks. Working with Echo and Central Sales, CECM was able to continue daily work of setting bases and pulling wires as we were preparing light poles to arrive on site.
The collaboration efforts of all team members of Commonwealth Electric Company of the Midwest (electrical and line crew teams), Kiewit Client Services Group, NE Humane Society, OPPD, City of Omaha, and Echo Systems made this project a success and one that we are proud of.