Throughout the summer and into this fall, the crew working at a large health center in Omaha has been making long strides in their safety performance and overall safety culture. This team, led by general foreman John Pettis, foremen Andrew Brant, Brandon McClarnon, EJ Avalos, and Kevin Colabello, has overcome its fair share of safety hurdles and has exemplified a commitment to safety and operational success, not only to our employees but also to our customer.
Notably, they have consistently had 100% PPE compliance, plan and execute work in thoughtful ways to eliminate any unnecessary risk, and communicate well with the general contractor and other trades on the project. While beginning work in the medical imaging rooms, several members of the team were not afraid to stop and ask questions about working with medical-specific electrical installations, indicating a positive safety culture of open communication and trust. Another challenge they are handling, similar to many other sites throughout the company, is a large population of newer apprentices seeking safety guidance. This crew has excelled with taking time to explain hazards to the newer employees, showing them tips of the trade, and keeping watchful eyes over them to ensure they do not put themselves in harm's way.
 This crew has mastered a culture of safety and has exceeded the expectations given to them, thanks in part to their leadership and the effort put in by everyone on the crew. If you see John, Andrew, Brandon, EJ, or Kevin, please congratulate them on their successes.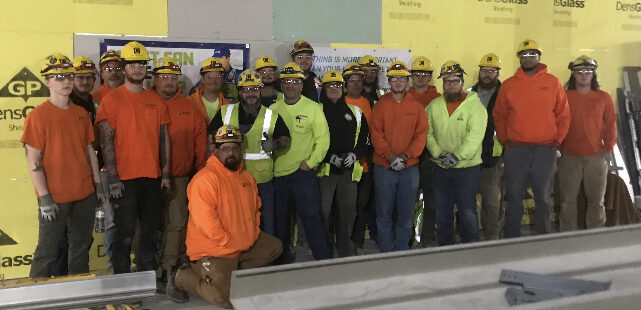 Congratulations to our Omaha crew! Keep up the great work!