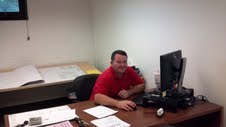 Assistant Project Manager, Sean Martys, of our Columbus office was named the 2013 Apprentice of the Year!
Sean completed his five-year apprenticeship program and now serves as Assistant Project Manager on the Columbus Commonwealth team.  His organizational and "people" skills were recognized early upon his entry into the apprenticeship program.
His "can do" attitude, and determined and serious pursuit of his education was recognized with this very special award.  He can be counted on to do his very best, no matter the task that is assigned to him!  We are all very proud of Sean for being named the Apprentice of the Year!