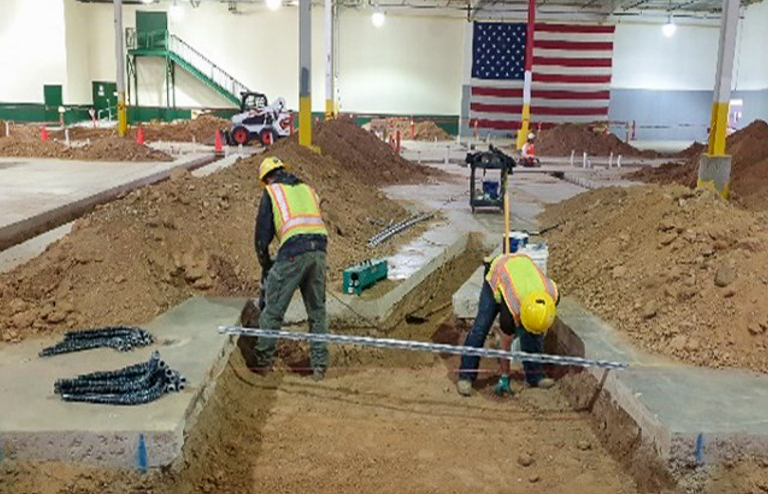 Two electricians complete backfill work.
By: Steve Sertich – Project Manager | Tucson

Commonwealth Electric Company of the Midwest (CECM) in Tucson has completed a $6.5M electrical contract with Cox Construction for the U.S. Border Patrol, Nogales Centralized Processing Center. This was bid as a design-build/assist project. This existing single-story, 83,000-square-foot building, located in Nogales, AZ, consists of 20 holding rooms able to contain a maximum of 500 detainees, 5 dedicated processing areas, various offices, training rooms, a mechanical equipment mezzanine, and a large exterior sallyport. This building is 100% backed up with two (2) 750KVA emergency generators for up to 72 hours.
The facility houses a centralized control room for video surveillance and security systems for all holding rooms. It consists of highly rated fire alarm and smoke detection systems for the protection of U.S. Border Patrol employees and detainees. The building also received a completely new telecommunication system with wireless internet access throughout the site.
General Foreman Mathew Merriman was handpicked for this project due to his extensive electrical knowledge, experience, and wide array of skills. He and his team of electricians have installed new utility power to the new SES switchboard, along with underground feeders to a new large interior electrical room and two smaller electrical rooms for the distribution of power throughout the building and site. A large part of this project was the special systems, including Fire Alarm/Smoke-Control, Access-Control, Duress, CCTV Video Surveillance, and Tele Data systems.
The success of this project was attributed to a great team collaboration between CECM, Cox Construction, and Coffman Engineering for final design and construction.
We would like to give special recognition to some of the key CECM field personnel that made this project a success: General Foreman Mat Merriman, Foreman Ryan Guthrie, Journeyman Wireman Colin Deputy, Journeyman Wireman Seneca Chaboya, and the rest of the team.