Commonwealth Electric's Columbus, NE, branch is working alongside Columbus Public Schools with their latest project: the Kramer Education Center. This historical building is being renovated into a child development center, day care center, and administrative offices.
The Kramer Education Center, from 1925 to 1958, was formerly known as Kramer High School. Then, in 1958, the school became Columbus Middle School. In 2016, the middle school moved into a brand-new building, leaving the former building vacant. Now, salvaging much of the building's history and naming it after the old high school, Kramer Education Center will provide the much-needed space and programs for the growing community, which has increased by 8.34% since the 2010 census.
Commonwealth will complete four phases, which include adding a new generator, an elevator, new lighting, and a new fire alarm system. We are also working on bids for two more phases of this project. The Kramer Education Center's preschool program will fully open in the fall of 2023, with the day care and offices following close behind. Commonwealth is proud to be a part of this vital project that serves the needs of Columbus and the surrounding areas.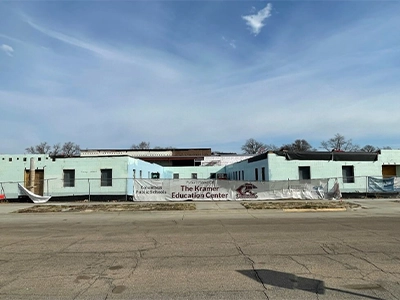 The Kramer Education Center will soon become a child development center, day care center, and administrative offices