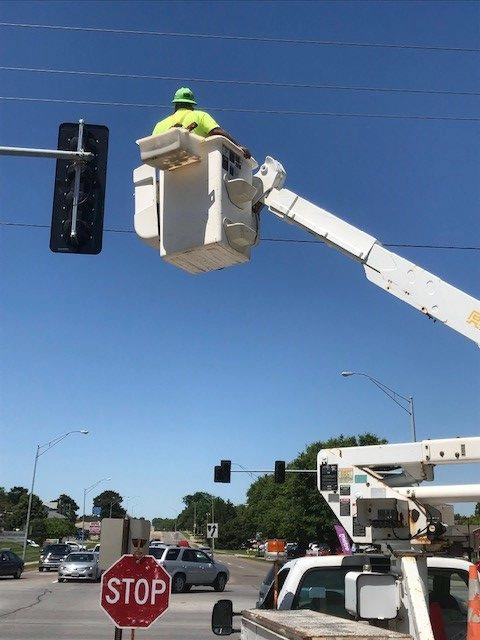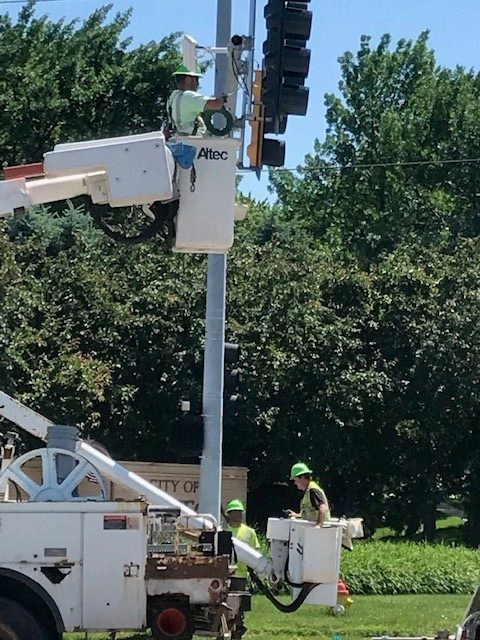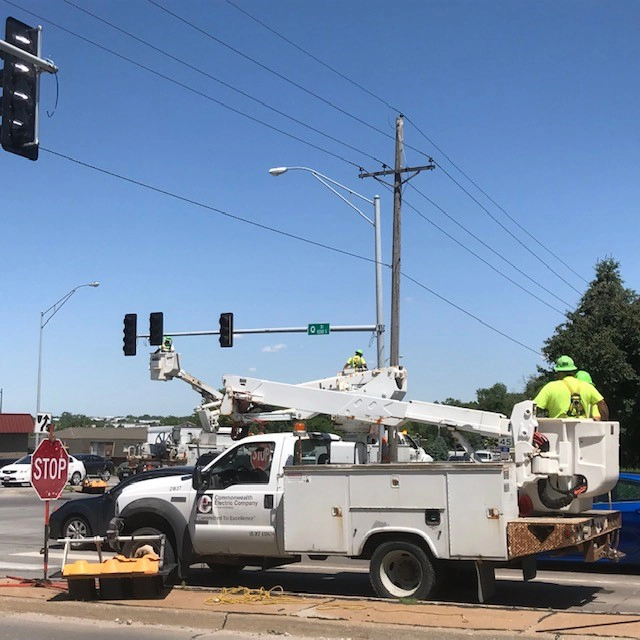 Our Omaha location was hired by the city of Omaha to work on their Automated Traffic Signal Project. The new automated systems will be able to make an adjustment to the lights, based on the demand of traffic flow.
Our crew was tasked with automating the traffic signals on 84th street from Center Street to the Highway 370 corridor. Our work started at 84th & West Center Road and continued to work south on 84th Street, while making changes to every major intersection along the way to Highway 370 in Papillion, NE. This 7-mile stretch, between Center Street to Highway 370 is technically state Highway 85 and was one of the corridors picked due to the high traffic demand, reliability, and known fluctuations in traffic.
Our crew had to first shut down all power to the intersection they were working on. Our crew was headed by Superintendent Rick Brock, who had to ensure his team would not interrupt the flow of traffic, always remain safe, and stay on schedule with the installation of the new automated signal control traffic signals.
The project we performed was extensive and consisted of the following upgrades to various aspects of the City's traffic signal system, including:
Traffic Signal Controller Equipment: Existing traffic signal cabinets were replaced with a larger size cabinet. The traffic signal cabinets received new components, including new controllers.
Vehicle Detection: Sensors which detect the presence of vehicles at intersections will be replaced at most intersections with more reliable technology.
Traffic Signal Management Software: Each traffic signal controller will have new software installed that allows the implementation of new features and provides more flexibility for City staff to operate traffic signals efficiently.
Traffic Signal Heads: New flashing yellow arrow signal heads will be installed when applicable to allow for safer and more efficient operations of permitted left turns at intersections.
Communication System: Higher band-with will allow for real-time and consistent communication from the traffic signal equipment to a central monitoring system.
Battery Back-Up System: Major intersections will be equipped with a system of batteries to provide back-up power which will keep the traffic signal in service in the event of utility outages and/or power spikes.
The use of the Adaptive Signal Control Technologies for this project was new to us and new for the city of Omaha. So why the change? A typical traffic signal in the city of Omaha will operate using one of three timing plans based on the time of day: (AM rush hour, PM rush hour and off-peak hours).
Using Adaptive Signal Control Technologies, in conjunction with well-engineered signal timing, can determine which lights should be red and which should stay green. ASCT will also help to improve travel time by more than 10 percent. Areas with outdated signal timing can see improvements up to 50 percent or more.
Adaptive signal control technologies are also kinder to the environment. Using ASCT, eliminating long wait lines at red lights, the ability to reduce emissions of hydrocarbons and carbon monoxide will occur due to improved traffic flow.
This traffic project started April 2019 and was completed in September 2019. Although this project is completed, we are in the process of working on two other ASCT projects for the city. They are:
132nd & Dodge Traffic Control
144th & Dodge Traffic Control
Rick and his crew exemplify our Core Value of Mastery. They are committed to excellence by being the absolute best at what they do. Each member of the line-crew understands their role. Communication is good and decisions are made quickly to ensure the project progresses. They strive to meet the expectations of our customer, and by doing so, they meet the expectations they have of themselves.