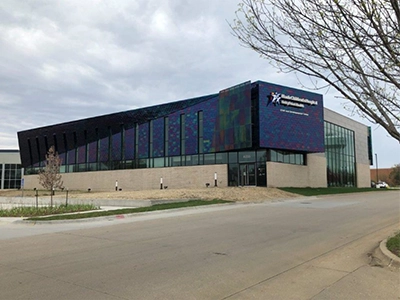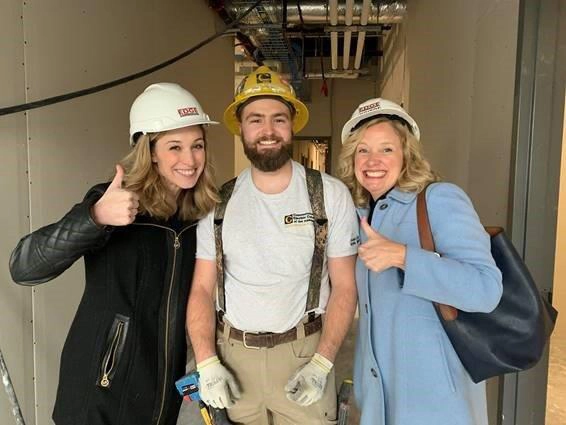 The Des Moines office is proud to announce the completion of the UnityPoint Health Blank Star and Development Center. This new facility is located off-campus in West Des Moines from its prior home at Blank Children's Hospital within Iowa Methodist Medical Center. The new "from ground-up" building is two-story and approximately 29,000 square feet with additional 2nd floor shell space for future expansion. Construction began in June of 2019 and wrapped up in February of 2020. The scope of work for this project consisted of a new electrical distribution, LED interior and exterior lighting, low voltage lighting controls, voice/data system, camera system, surveillance and intercom systems, card access and a complete fire alarm system.
The Blank Star and Development Center houses two specific areas of healthcare. The STAR (Support Teams for Achieving Resiliency) Center is a unique community center designed to be child-and-adolescent-friendly and trauma-sensitive. To fulfill its mission, the STAR Center houses a Child Advocacy Center, focusing on cases of potential abuse and neglect, as well as three specialized clinics designed to meet the needs of children and their caregivers. This includes the Drug Endangered Children Clinic, the Growth and Nutrition Clinic and the Foster Care Clinic.
The Development Center focuses on and provides specialized care for infants and children experiencing developmental, learning or behavioral problems. The Development care team and physicians take a close look at the medical and psychosocial aspects of development and behavioral problems to offer appropriate intervention and treatment options unique and personalized for each child. In addition, the Development team follows babies who have been patients in the neonatal intensive care unit (NICU) and provides care to any experiencing problems with vision, hearing, communication, behavior or delays in mental or motor development.
The CECM management team consisted of Travis Powell as Project Manager, Clint Bailey as Low Voltage Project Manager, and Dianna Merritt and Ashley Huinker as Project Estimators/Coordinators. Trevor Schmidt was the electrical foreman for the project. Trevor's experience and supreme attention to detail was an asset during this fast-paced and detail-specific project. Joe Schaff, Low Voltage Foreman, was also a vital part of this team's success. Joe's leadership and great work ethic were able to keep the low voltage team focused and productive.
Commonwealth was thrilled to work with Edge Commercial, general contractor, on the construction of the Blank Star and Development Center. This particular project was near and dear to Commonwealth's heart as it was funded and spear-headed by the UnityPoint Health Foundation, whom Commonwealth has worked so closely with on Blank Children's Hospital Festival of Trees and Lights over the years. Commonwealth, Edge and UnityPoint Health have been fortunate to forge such an incredible and lasting relationship throughout so many UnityPoint Health projects.
The Des Moines office is proud to have been part of such an amazing project for Blank Children's Hospital. The help and care this new facility will be able to provide for so many children and families of Iowa is extremely important to us and why we strive to work so hard at what we do.