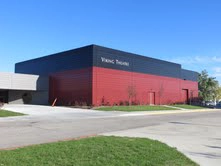 Commonwealth Electric has a 30 year relationship with Grand View University.  CECM completed several projects for Grand View in the past several months.  The first was a remodel of the Johnson Wellness Center Locker Rooms.  This 4,200 sq foot project included new lighting, convenience lighting, and fire alarm systems.
Featured project was the renovation of the Viking Theatre within the Student Center.  This 35,000 sq foot facility involved state of the art renovation, and a 1,000 sq foot addition.  The following services; new interior and exterior site lighting, low voltage switching, theatrical lighting system, distribution equipment, and fire alarm service upgrades were completed within a very aggressive 3 month schedule.
Commonwealth Electric also partnered with Grand View on their new Central Campus Plaza.  This design-build project has become a centerpiece of the campus, providing for a gathering place for students and faculty.