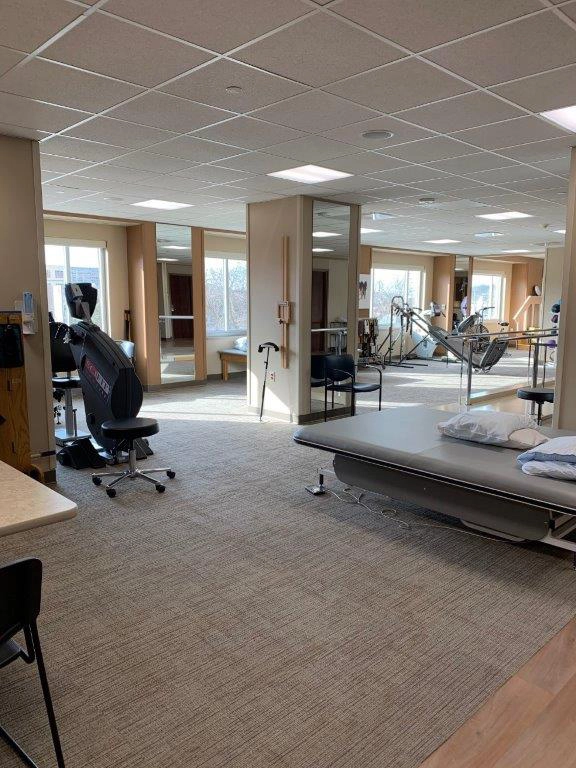 The Des Moines office is proud to announce the completion of another project at Iowa Methodist Medical Center. The Younker wing of IMMC houses the rehabilitation unit for the entire campus. This remodeled unit houses new treatment rooms, a large multi-functional rehab gym, along with other patient care areas including UV treatment, speech therapy and hydro therapy. Additional office space as well as a new conference room, referral office, and physical therapy staff workspace was also included in this project.
This project included approximately 14,000 square feet of renovated space. Construction began in August of 2019 and was completed in February of 2020. The scope of work for this project consisted of additional electrical distribution, new LED lighting and lighting controls throughout, a voice/data system, nurse call, access control, new cameras and a complete fire alarm system.
The CECM management team consisted of Travis Powell as Project Manager, Clint Bailey as Low Voltage Project Manager, and Ashley Huinker as Project Coordinator/Estimator. Ryan Shipman was the foreman for the project. Ryan has worked on numerous hospital projects for UnityPoint Health over the years. There is no doubt that his high-level experience and the work ethic of him and his crew was instrumental in the success of this project. The Des Moines team is thrilled to have completed another great project for UnityPoint Health.