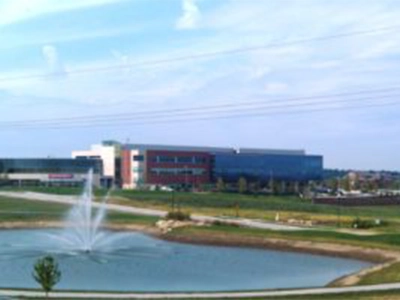 Commonwealth Electric Company of the Midwest's Omaha, Nebraska office recently completed work on the Methodist Women's Hospital Medical office building. The CECM team was able to successfully coordinate the electrical installation in the facility with the other construction trades through the use of Building Information Technology (BIM). Commonwealth's Vice President of Engineering, Eric Hoge, PE attributes the success of using BIM on this project to the great communication between the field staff and engineering staff for the project.
Commonwealth's team was responsible for installing a new 3000A service to the building as well as the complete electrical buildout with in the facility. All said and done over 40 miles of conduit was installed as part of the electrical construction on this project. Commonwealth made use of their in-house prefabrication (pre-fab) shop to build various electrical assemblies to be sent to the jobsite for installation by their electricians. By using pre-fab on this project Commonwealth's electricians on the jobsite are able to be more productive in completing the electrical installation.
About Methodist Women's Hospital and Women's Center. This facility is a 192,000sf, 3 story facility with private underground parking garage. This facility provides medical support and acute services to patients with 126 patient rooms, 36 of which are Level III NICU beds, seven operating rooms and a full service emergency department serving men, women and children.